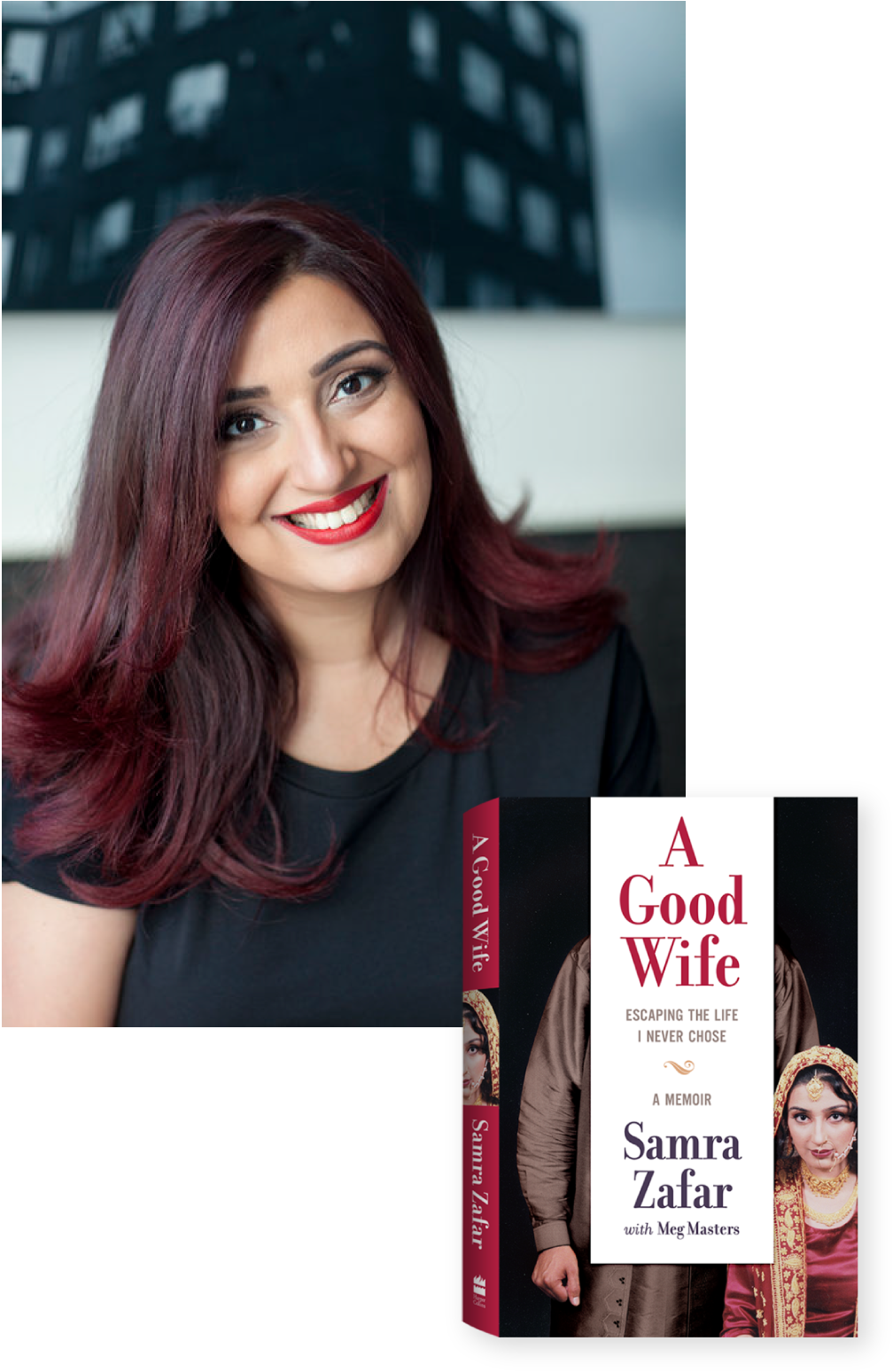 Founder & Executive Director
Samra Zafar
Samra Zafar is an award-winning international speaker, bestselling author, consultant, educator, and entrepreneur who advocates for gender equity, inclusion, and human rights. She has been recognized among the Top 100 Most Powerful Women in Canada, and a Top 25 Canadian Immigrant. Her book, A Good Wife: Escaping The Life I Never Chose, is an international bestseller and named among CBC's Best Books of 2019, and is now being adapted to a premium TV series. She is one of the youngest Alumni Governors at the University of Toronto, a Celebrated Ambassador for Plan International, and a board member for Women's College Hospital Foundation.
After arriving in Canada as a child bride and escaping a decade of abuse, Samra pursued her education as a single mother working multiple jobs and graduated as a top student from University of Toronto with several awards and scholarships. She began sharing her story to raise awareness about gender-based violence and has since become a globally recognized expert on equity and inclusion, violence against women, and mental health. Her speaking portfolio includes three TEDx Talks, and speeches to Immigration Refugees and Citizenship Canada, UNICEF, Yale University, Amnesty International, Art of Leadership, and many leading nonprofits, corporations and universities around the world. Her work has been extensively featured in both Canadian and International media, including Washington Post, Huffington Post, National Post, Globe and Mail, CBC, CTV, Global News, Yahoo, and more – impacting tens of millions of people worldwide.
Board of Directors
Julie Oden is a dynamic, innovative and strategic brand marketer with over 17 years of success in building and elevating brands. She has a diverse background in Advertising, Marketing Operations, UX/Digital Experience, Change Management, and both Product and Project Management. She has a proven success record in driving teams and high profile projects to great growth, consumer awareness, and profit with major brands such as Yahoo!, AOL, MySpace and The Home Depot.
Aileen Virola has over 20 years of business marketing experience leading strategies or overseeing programs for top brands within North America. Aileen has held leadership roles at global agencies including GMR Marketing, Nurun, and JWT.
Aileen's other specialties include career and life purpose coaching. She has volunteered her time as a Career Mentor for new Canadian immigrants.
Justin Schurman is VP Commercial Markets for RBC.  He leads a diverse and enthusiastic team of commercial account managers who provide tailored and advice-driven products and services to a wide spectrum of clients.
Throughout his 20 years with RBC, Justin is known as a strong collaborator, he has an upbeat style and can find and focus on the positive.  His professional expertise include: Managing competing priorities, leading change, prioritization for greatest impact, motivating others to achieve more and collaboration both on a team and across different lines of business.
Justin embraces diversity and inclusion.  As a member of the LGBT+ community he wants to give back and as a result, he is thrilled to be a part of the Brave Beginnings board and he also acts as Co-Chair of RBC's GTA Pride ERG with over 500+ strong members.
Shelley Khaper is a Chartered Professional Accountant (CPA, CA) and is currently Manager in the Investment Banking Business Management team at TD Securities in Toronto, Ontario, a role she has held since 2017. Shelley has over 9 years of professional work experience in the financial services industry, including roles of increasing responsibility in Financial and Regulatory Accounting and Reporting, Financial Planning and Analysis, and Internal Audit Services at the Co-operators General Insurance Company (a subsidiary of the Co-operators Group Limited) between 2009 and 2014. Shelley joined the Internal Audit Division at TD Bank Financial Group in 2014 until 2016, before joining TD Securities Investment Banking. Shelley previously served as Treasurer and Board Member of the Science Teachers' Association of Ontario from July 2015 to November 2016.
Sana Khohkar is an associate at a boutique law firm in Oakville, Ontario. Her practice encompasses all areas of family law including divorce, custody and access, child and spousal support, and more. Sana regularly appears before the Superior Court of Justice and the Ontario Court of Justice. Sana has a special interest in domestic violence prevention and an understanding of the cultural stigmas associated with abuse, which helps her remain compassionate with her clients while still aggressively protecting their rights.
Sana is a member of the Law Society of Ontario, the Family Lawyer's Association of Ontario, and the Peel-Halton Collaborative Family Law Group.
Nimish Bhatt is a Commercial Account Manager at RBC, where he manages a diverse portfolio of business clients and works towards helping them achieve their business goals.
Nimish has always been keen and curious towards understanding human emotions and behaviour. This interest quickly turned into a passion for coaching, mentoring, and helping individuals succeed in their professional journey which aligns perfectly with the mission and values of Brave Beginnings. Nimish believes strongly in giving back to the community and is also a member of the Executive Committee with Lymphoma and Leukemia Society of Canada (LLSC).
Nicole Hastings is Senior Director, Wealth Tax Advisory & Senior Counsel CIBC. Prior to joining CIBC, Nicole held positions as a capital markets tax advisor at another financial institution and practiced tax law with a top-tier law firm in Toronto. She was called to the Ontario Bar in 2012 and is a member of the Law Society of Upper Canada, the Ontario Bar Association and the Canadian Tax Foundation. Nicole believes strongly in giving back to her community and helping wherever she can and is delighted to be working with Brave Beginnings and its outstanding board members. She also mentors law students interested in practicing tax law and has served as a mentor to high school students interested in a career in law.
Operating Team
Jeremy De Mello is the Co-founder and Assistant Director of Brave Beginnings. Jeremy is one of the founding sales team members of the Toronto office of Tipalti, a global software company that helps mid-market businesses automate their payables.
Jeremy has previously been the first account executive at insurance technology company Owl.co, worked to modernize banking technology with Zafin, led the marketing for Canadian P2P lending startup Lending Loop, advised on deals for venture capital firm Founders Circle Capital, and developed curricula for MaRS Discovery District.
Other Operating Team Members
• Dina Martinovic — Project Manager
• Sheena Patel — Business Manager
• Sophia Rondinone — Operations Manager
• Whitney Wager — Project Manager
• Afnan Arshad — Assistant Program Manager
Our Sponsors
We are grateful for the help and guidance provided by some of our most generous supporters, including:
• John Rothschild (Donor)
• Juliet Kwan (Donor)
• Karina Barker (Copywriting)
• Nathan Snelgrove (Website)